10 Reasons of Using Kraft Paper Bags
March 04,2022
biodegradable kraft paper bags manufacturers

Kraft paper bags are not only convenient, popular and beautiful, but using this type of packaging helps protect our ecological environment.
Why can't you use plastic bags?
Less than 50 years have passed since plastic bags were used. For decades, they have caused irreparable damage to our planet. Plastic bags do not rot, and will continue to pollute the air, land and water on the earth for hundreds of years. Millions of marine life suffer from human use of plastic bags.
The bags are difficult to degrade and will not be recycled. Polyethylene cannot burn because it releases a lot of harmful and dangerous substances during the burning process. In many countries, plastic packaging has been banned at the legislative level.
In contrast to plastic bags, the first paper was invented thousands of years ago, and it has done no harm to the planet for so many years. And paper packaging was used 150 years ago or earlier.
Our company produces different types of paper bags. Some are high-strength, while others are grease-resistant or dense, like one way valve coffee packing bag or brown paper kraft tin tie bags with windows. You can buy paper bags in any shape and size in our online store. The bag is made of high quality cellulose by hot melting. We offer to buy a variety of paper bags for food, baked goods, fast food.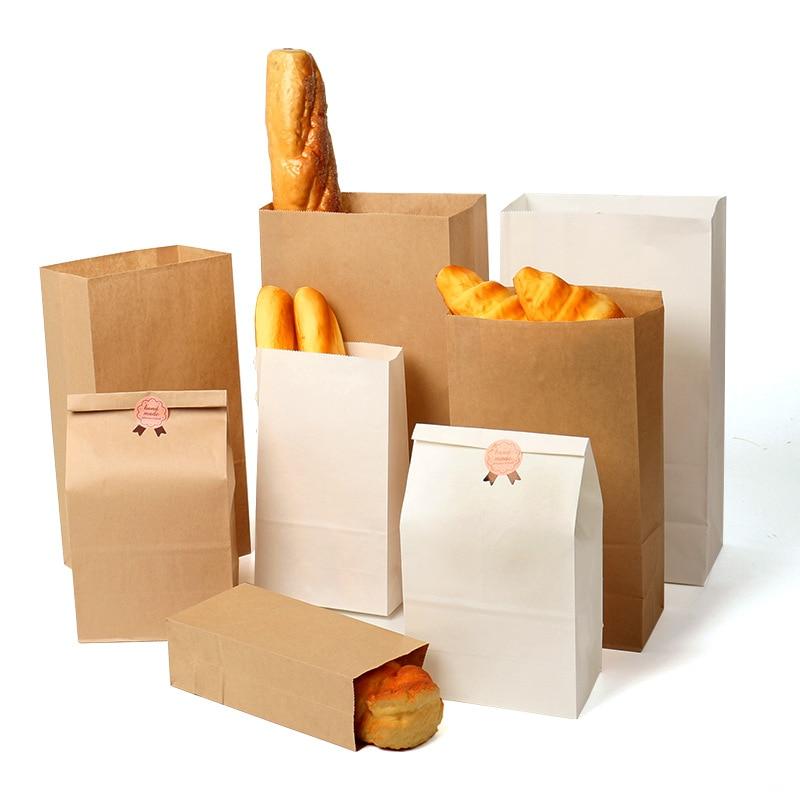 Why are kraft paper bags better than plastic bags?
Kraft paper bags have become increasingly popular in recent years. Plastic bags are increasingly being replaced by paper bags. Many companies pack their goods in paper bags. It has become a symbol of quality, style, taste. Today we decided to tell you why this is so?
The advantages of kraft paper bags over plastic bags:
✔️Environmentally friendly
Compared with plastic bags, kraft paper bags do not pollute the environment. Paper bags are fully biodegradable and easy to recycle.
✔️Safety
They are free of bleach and dyes and use the same materials even for storing sanitized items.
✔️Heat resistance
It can withstand high temperature and is used for hot food.
✔️No "plastic" odor
✔️Easy to decorate and apply
The paper bag can be printed with a logo or sticker, if required, just sign it. There are also many options for decorating such packaging.
✔️Allow the product (including food) to "breathe"
Kraft paper has good air permeability, which is very important to keep the product fresh to avoid a "musty" smell.
✔️Comfortable to human skin
✔️Fashionable and beautiful, fashionable and modern
If you pack your product in such a package or give it as a gift, the person is sure to be delighted. ⠀
✔️Diversity
Not only do paper bags come in different sizes, but they also have different handles (flat, twisted) or no handles at all.
✔️Hold the shape
Paper bags hold their shape well, you can put them anywhere and they won't come off like plastic bags.
Last few words
Kraft paper packaging can be recycled up to 7 times without cutting down trees for it, reducing natural resource consumption. If the kraft paper bag falls into the ground, it will decompose by itself in 2-3 years, and will not cause harm to the environment. Napkins, tablecloths, twine, wraps, containers, plates, wraps can all be made of kraft paper.
In short, the application of kraft paper bags is beyond your imagination. We not only produce one way valve coffee packing bag and brown paper kraft tin tie bags with windows, but also custom printing foil snack packaging film, please feel free to contact us.